Alle fotos kan fås som digitale filer eller som papirudskrifter via vores partnerlaboratorium Picto (levering med posten).
Billederne er klassificeret efter det tidsrum, hvor du var der. Dette er angivet på den billet, som fotografen giver dig.
HVORDAN BESTILLER JEG DINE AFTRYK OG FOTOS?
1. Klik på knappen "Find alle dine billeder" på forsiden.
2. Du vil derefter blive ført til den side, hvor du har valgt din placering. Vælg derefter måned og dag for dit besøg.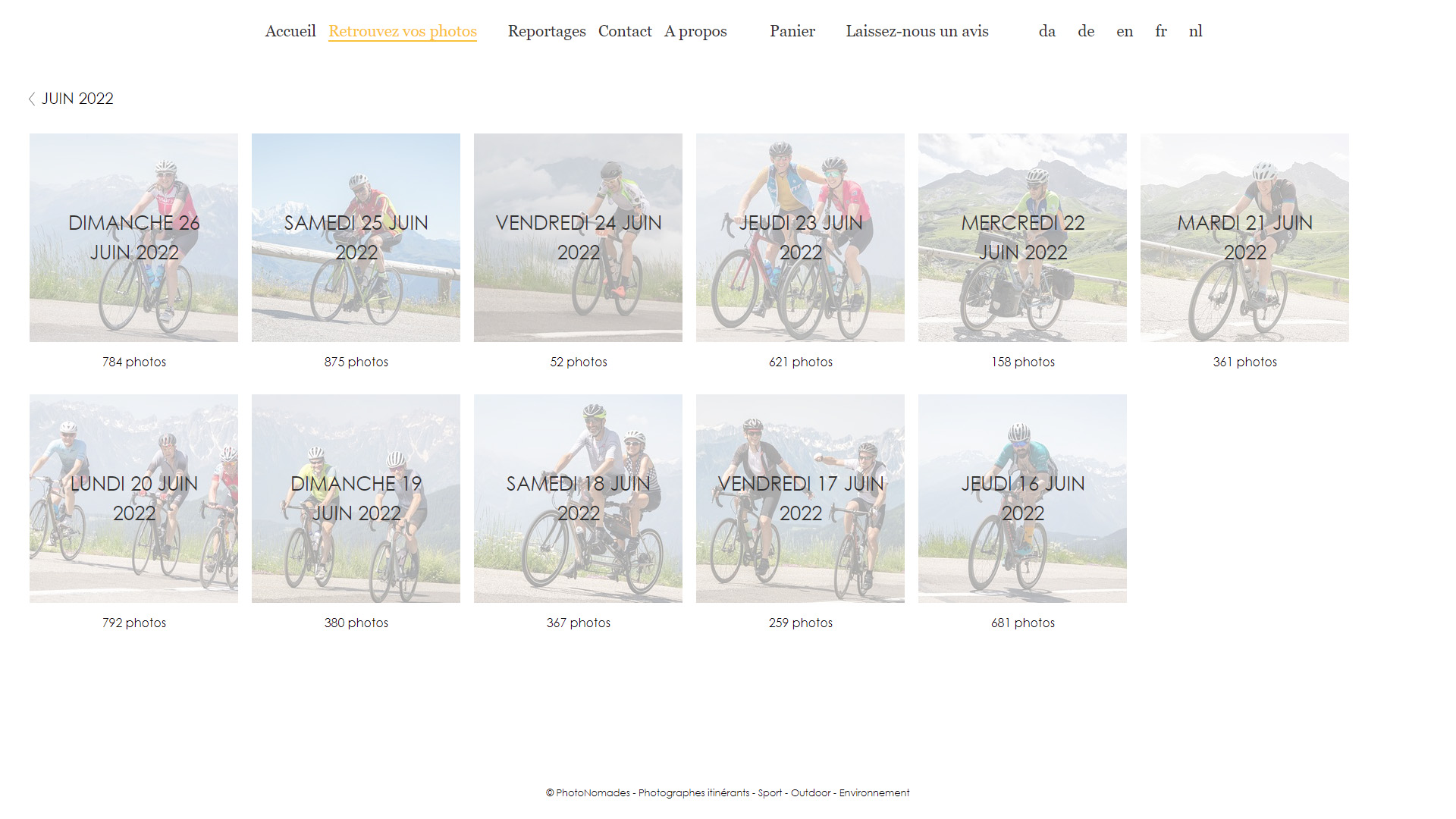 3. Then choose the side from which you climbed the pass.
4. The photos are arranged in chronological order according to the time slot of your visit.
Example: a 2pm-3pm ticket indicates that you were picked up between 2pm and 3pm on that day.
5. Når du har fundet billedet, skal du vælge det ønskede produkt enkeltvis eller i en pakke:
- Digitalfoto (HD eller BD)
- Pakke med 2 eller 4 digitale HD-fotos
- Pakke med 1 print + 1 digitalt HD-foto
- Print på Fuji-papir
- Print på Dibond-plade
- Indrammet foto med træ- / aluminiumsramme
- Krus / musemåtte
6. For example, for a digital photo, choose the HD format (ideal for printing) or BD (Low Definition, suitable for social networks, or sending by email, ...) and click on the "Add to cart" button.
7. At this stage, your photo has been added to your basket. You can now go to the payment page to finalise your order by clicking on "View cart".
8. You are now on the page of your basket, this one recapitulates your order by indicating you the amount to be paid.
At this stage, you also have the possibility of adding a promotional code if you have one.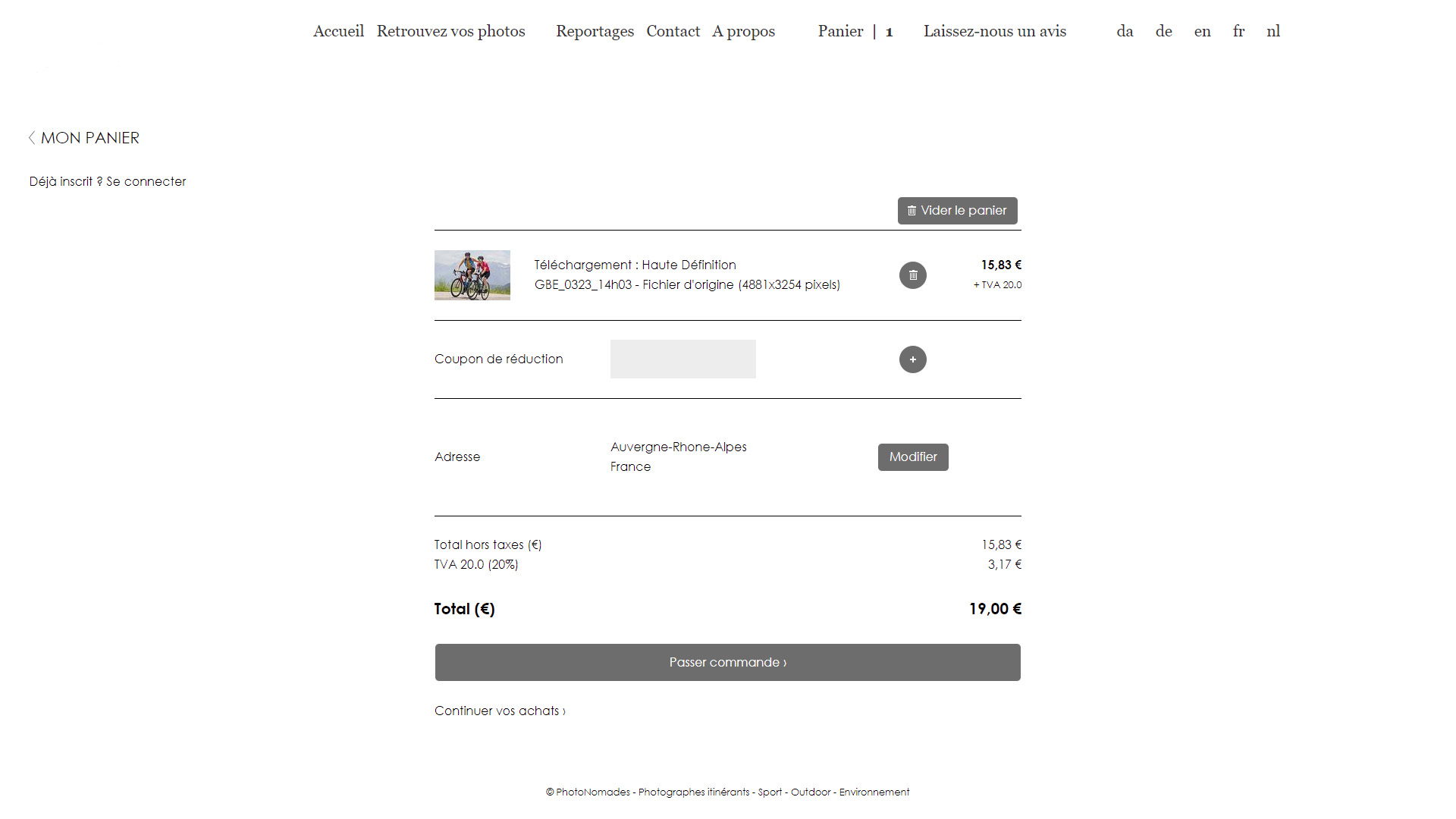 9. After clicking on "Place order", you must fill in your details (mandatory fields followed by a star) and accept the general terms and conditions of sale, remembering to tick the box "I have read and accept the general terms and conditions". Finally, click on the "Review order" button.
10. Once you have filled in your details, click on "Order with payment obligation".
11. You are at the last stage of your order, you have to choose the payment method. You can choose between the Paypal or Stripe platform or by bank transfer via your bank.
These two payment solutions are completely secure and you are not required to create an account on these two interfaces.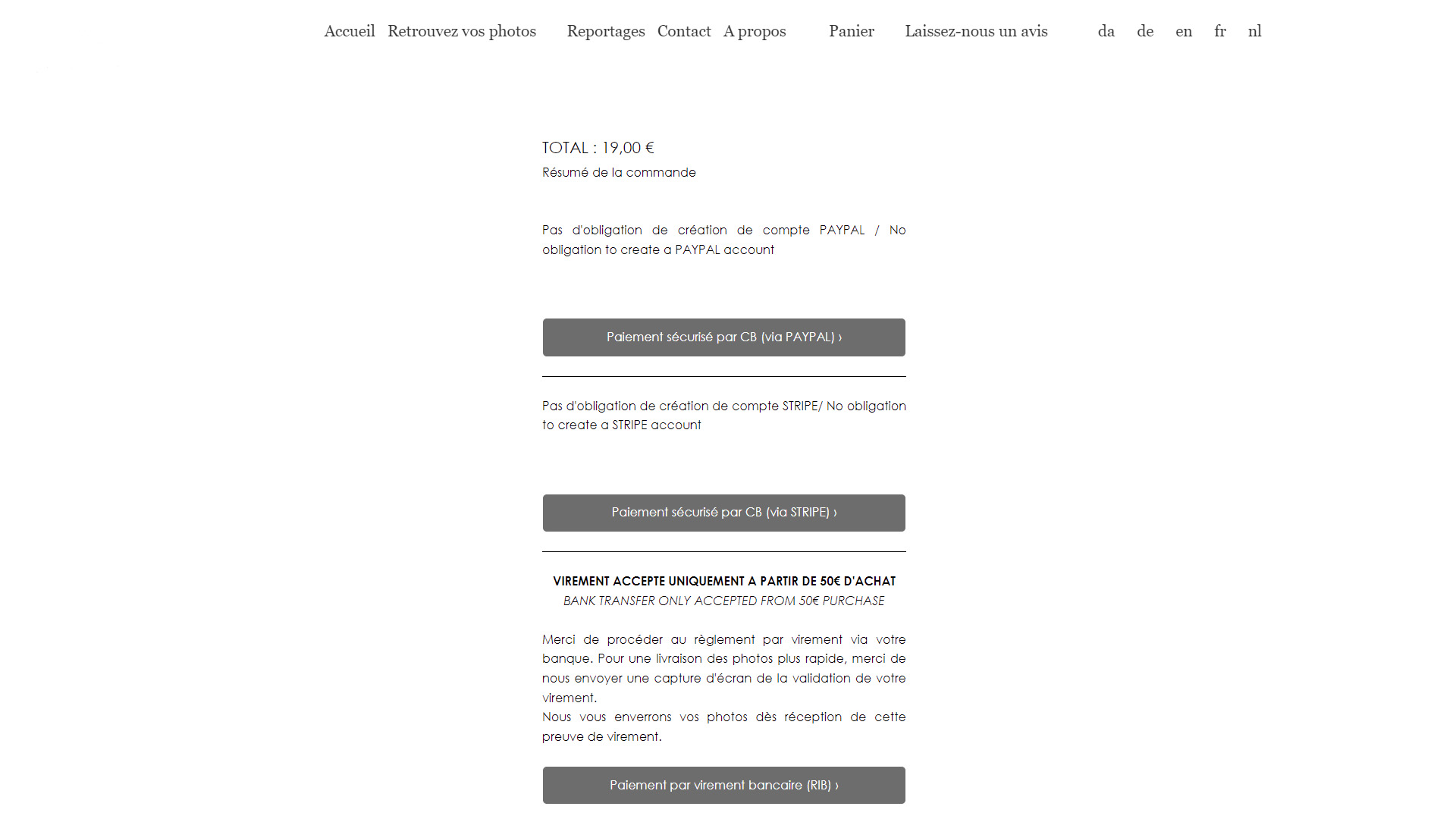 RIB POUR VIREMENT BANCAIRE